When I first got on the Internet about twenty years ago, there was no GUI (Graphic User Interface). I had a IBM Clone computer with an
Intel 80286
processor that got to up to a speed of 25MHz. Actually, the World Wide Web was just beginning to show up, and I used a Lynx browser. After a while I got tired of seeing [IMAGE] and downloading the image to view, so I upgraded to Windoz 3.11 and a
80386
computer/processor. The next step was to get a web site on a local server called
rt66.com
. A good name since Route 66 traverses Albuquerque where I live. About that time, animated gif files were showing up, so immediately made three pages full of animated cat graphics. There were a few sites that offered cat graphics, so mine was one of the first to offer just animated cats.
NaNcY's Cat Animation Site
, is still there and still gets lots of daily hits, although I havened updated it in ages.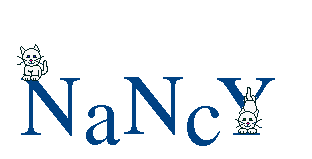 Today I spend a great deal of time on Tumblr. There I have discovered the newest crop of animated cats. I share some of my favorite with you here.